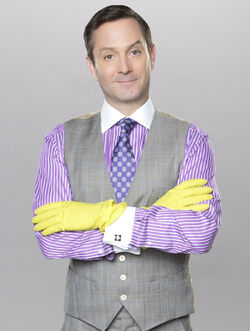 Felix Unger, played by Thomas Lennon, is a professional photographer and recent divorcee. He moves in with his old college friend Oscar Madison after his wife Ashley kicks him out of the house. Felix is a bit of a neat-freak and is extremely neurotic and fussy, especially when compared to Oscar. In his free time, he does yoga. He also fancies cooking and baking. Throughout the series, he often gets mistaken to be gay by several characters. Him and Ashley were good friends with Oscar and Gaby when both couples were still together.
He is the seventh incarnation of Felix Unger following Art Carney in the original 1965 play, Jack Lemmon in the 1968 film and its 1998 sequel, Tony Randall in the 1970s television series and its made-for-tv film The Odd Couple: Together Again, a cartoon adaptation named Spiffy the Cat in The Oddball Couple, Ron Glass in The New Odd Couple, and Sally Struthers as Florence in The Female Odd Couple.
Ad blocker interference detected!
Wikia is a free-to-use site that makes money from advertising. We have a modified experience for viewers using ad blockers

Wikia is not accessible if you've made further modifications. Remove the custom ad blocker rule(s) and the page will load as expected.